Enemy of the Good (Performance)

multidisciplinary performance with horse, rider, cellist, pianist, and video.
Premiering December 7, 2007 in Miami, Florida, is multi-media artist Janet Biggs' powerful new work exploring control, obsession and Man's relentless pursuit of perfection. In this innovative performance, Biggs proposes new relationships between aesthetics and strength as well as action and desire. The Artist explores the boundaries of gravity and personal limits – and by extension, the boundaries of control and free will.
Janet Biggs merges the fierce athleticism and pageantry of jumping horses with the soulful chords of a cellist and the pounding percussion of a solo pianist against a landscape of large-scale video projections in her new multi-media performance Enemy of the Good.
With its title taken from the Voltaire quote, "the perfect is the enemy of the good," Biggs' performance examines the driving desire to transcend constraints and the impossible search for perfection. With nods to Busby Berkeley's lavish musicals, the photographs of Muybridge, and referencing Santaigo Calatrava's soaring architecture, Biggs explores the isolation and obsession required to make something difficult appear effortless and transcendent.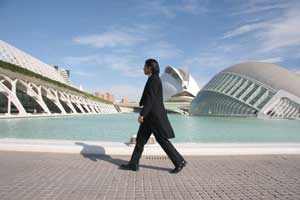 Video still from "Enemy of the Good." ©2007, Janet Biggs.
Accompanied by William Martina's haunting cello, projected video images of athletes, animals, and musicians reveal the repetition, intensity, and obsession required of those reaching for perfection. The horse performs a synchronized pattern of interweaving circles, ending with the horse and rider leaping over rails in front of the video screens.
The video images change to ethereal, weightless swimmers as Andres Rodriguez on his grand prix champion horse gallops into the foreground, powerfully jumping the fences that block their path. The video projections are streaked with their shadows. A light comes up on concert pianist, Jose Luis Hernandez-Estrada, who dives into an intense solo. The piece builds to a crescendo as the soloist flies up and down the keys and the horse soars over one of the video projection screens.
Enemy of the Good tests the boundaries of gravity and personal limits and by extension the boundaries of control and free will.
Visual artist/Director: Janet Biggs
Janet Biggs lives and works in New York City. Her videos, video installations, and performances, condensed yet epic, have led her to capture such events as horses galloping on treadmills, Olympic synchronized swimmers in attempts to defy gravity, and icebergs trapped in a lagoon. Her work has been exhibited, among other institutions, at the Herbert F. Johnson Museum of Art, Ithaca, New York; Everson Museum of Art, Syracuse, New York; Gibbes Museum of Art, South Carolina; Rhode Island School of Design Museum, Rhode Island; Cincinnati Contemporary Art Center, Ohio; Vantaa Art Museum, Finland; Linkopings Konsthall, Passagen, Sweden; Charlottenborg Exhibition Hall, Denmark; and the Oberosterreichisches Landesmuseum, Austria; and Pigorini Museum, Italy. Biggs is the recipient of numerous grants and awards including the National Endowment for the Arts Fellowship and Anonymous Was a Woman Award. Her work is in public collections including the Herbert F. Johnson Museum of Art, Cornell University, Ithaca, New York; Gibbes Museum of Art, South Carolina; and the New Britain Museum of Art, Connecticut. Her projects have received support from Sony Electronics Inc, Panasonic, Hermés of Paris, and the Wexner Center Media Arts Program. Janet Biggs is represented by Claire Oliver Gallery in New York, New York and Solomon Projects in Atlanta, Georgia.
Cellist/Composer: William Martina
Will Martina has resided in New York since early 2006, and during his short time here he has already established himself as an in-demand instrumentalist, performing and collaborating across a wide range of styles ranging from Jazz, to Afropop, Rock, Cabaret, and of course, Classical.
In 2006 he performed at the Copenhagen Jazz Festival and for many years has been associated with the Banff Center for the Arts in Alberta, Canada, both as a student and as an instructor. In 2002, Will was employed by the Banff Center as a member of the Music Faculty. During this period, as well as teaching, he devised an improvised score for a Native American dance piece (Bones: An Aboriginal Dance Opera), was a collaborative artist during the Summer Keyboard Festival, and performed as soloist with the Banff Summer Festival Chamber Orchestra.
Will has previously collaborated with Janet Biggs on her work Airs Above the Ground (composing, arranging, and recording the accompanying music). The piece was recently displayed, to great acclaim, at the LOOP Video Art Fair in Barcelona. He is grateful and looking forward to furthering the collaboration with Janet in her work Enemy of the Good.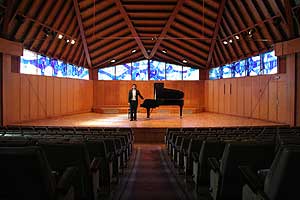 Video still from "Enemy of the Good." ©2007, Janet Biggs.
Pianist/Composer: Jose Luis Hernandez-Estrada
Pianist and composer Jose Luis Hernandez-Estrada (1983- ), laureate of the 2006 JK Hodges Contemporary Piano Competition, has captivated audiences and critics alike with energetic and sophisticated performances in recital and as soloist with orchestra. The Mexican press describes him as a "musician of intense musical temperament." The Fürther Nachrichten, calls him "a brilliant young pianist".
An artist with a deep commitment to the music profession, since making his formal debut at age ten with the Tamaulipas State Symphony Orchestra (Mexico), he has performed to critical acclaim in Germany, Spain, United States, Puerto Rico, Norway, and throughout Mexico.
Hernandez-Estrada holds a Bachelor of Music degree in Piano Performance (Cum Laude) from Texas Christian University in Fort Worth and a Postgraduate Diploma from the Conservatori del Liceu of Barcelona, Spain.
A respected music educator, he has produced and implemented numerous pedagogical programs in collaboration with organizations such as the Austin Chamber Music Center and the Van Cliburn Foundation. Hernandez-Estrada is the founder and artistic director of the Festival International de Piano Reynosa (Mexico), an annual cultural event which presents some of the most outstanding young pianists of their generation through solo recitals, lectures, and educational concerts.
Equestrian: Andres Rodriguez
Andres Rodriguez' talent was recognized early on. From the beginning of his competition career, at 12 years old, he was a member of the Champion Team at the World FEI Children's competition, and continued on to win numerous international championships throughout South America. In 2000, he was the Champion Junior Rider at the National Championship in Venezuela, but knew the road would not end there. In 2002, Andres began a journey that would lead him to spend the next four years in Europe, training with the world champions, Nelson and Rodrigo Pessoa. His first years out of Juniors, he was placing in the top ribbons and winning grand prix competitions in France, Spain, Portugal, Belgium, Turkey and Holland. In 2005 at 21 years old, he rode for the Silver Medal Team in the Nations' Cup Competition in Bogota, Columbia.
Andres' passion and respect for the horses carries through on all levels of the delicate care and preparation necessary to achieve success.