If Ever I Would Leave You
Multimedia performance, 2015
Fri, April 17, 2015 at 9pm

Video excerpt (Original is high definition)
Multimedia artist Janet Biggs offers a performance based on heroic individual stories of struggles with Alzheimerís disease. Presented in collaboration with the University of Houston Blaffer Art Museum and independent curator, Janet Phelps, If Ever I Would Leave You merges the intimacy of a fleeting memory with the rigor of an optical seizure. Taking its title from one of the artistís grandfatherís favorite songs, If Ever I Would Leave You looks at loss, desire, chaos and control in the face of a fading sense of self.
If Ever I Would Leave You is supported through the Innovation Grants program of the Cynthia Woods Mitchell Center for the Arts which is funded in part by the Houston Endowment, Inc.
Stills from the performance (click for larger images)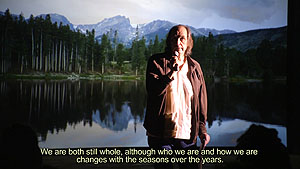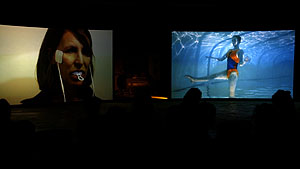 Higher-resolution images.